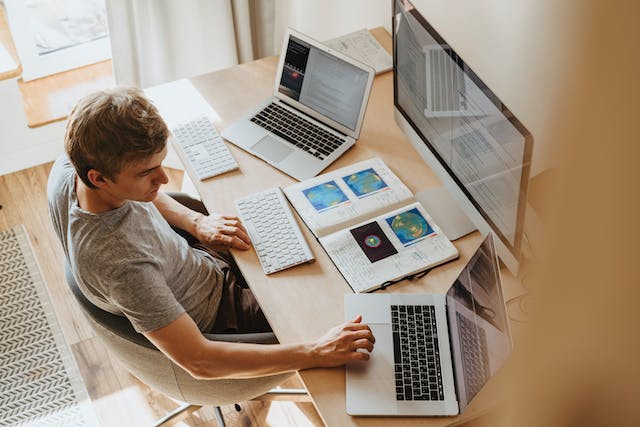 AdBlock vs. uBlock in 2023
Imagine you are watching an instructional video or a poignant movie where the plot begins to peak. At that moment, an ad interrupts it. Of course, it's annoying. What should you do in such a situation? Of course, find a good ad blocker to help you enjoy browsing websites.
There have been multiple threads on Reddit about whether AdBlock could be better than uBlock Origin. Proponents and opponents of both block ads apps present arguments for and against them. Let's finally restate the uBlock Origin vs. AdBlock competition and decide which is more effective.
AdBlock vs. uBlock Origin: First Look
Let's get to know these ad-blocking apps better. So, AdBlock is a product that filters content. It also allows you to block annoying ads. The app appeared back in 2009. It supports the most popular web browsers:
Chrome;
Firefox;
Safari;
Microsoft Edge.
The exciting thing about this app is that it only blocks annoying ads. You will still see acceptable ones on web pages. This means website creators and marketers will be more motivated to show quality and valuable ads to users.
Before getting to the AdBlock vs. uBlock competition, let's briefly discuss the second contender to win. uBlock is a free and open-source browser extension. The app was created in 2014. It is compatible with the same browsers as its main competitor. The developers provide users with a lot of freedom of action. Internet surfers can create a list of sites where they do not want to see advertisements. There are also ready-made filters. For this reason, some users on forums claim that this uBlock Origin is better than AdBlock.
But take your time to conclude until you have read our article in full! Other alternative apps can remove ads just as well. Stands Ad Blocker is a free ad blocker that does a great job. It is also compatible with all popular browsers, so users have a wide field to utilize. But let's focus on our main competitors for now — AdBlock Plus and uBlock Origin.
uBlock vs. AdBlock: Similarities
Before dealing with the differences, it's worth looking at the parameters that both competitors have in common.
User Interface
Speaking about the competition uBlock vs. AdBlock Plus for Firefox and other browsers, the developers of both apps are as attentive as possible to users' needs. Both blockers have a straightforward interface, which will be easy to understand even for those without technical education. Installation and uninstallation also won't take long and won't be a problem.
Both apps provide:
a button that, when pressed, allows you to turn them on or off;
statistics with connected and disconnected URLs.
It's worth remembering that AdBlock allows acceptable ads, which you can't opt out of. This includes ads from Google, Microsoft, and other well-known holdings. uBlock, on the other hand, allows you to block everything without exception.
Price
When choosing an ad blocker app, many users emphasize its price. No wonder because no one wants to overpay. We have good news: both AdBlock and uBlock are available for free. If you've already used and liked the apps, you can donate to the developers, but there are no obligatory payments.
Filter Parameters
Regarding filtering settings, there is no winner in the Chrome uBlock vs. AdBlock competition. Both apps allow users to create unlimited lists of sites for which they want to block ads. In both cases, you can edit blocklists and whitelists with no problem. In this way, the freedom of action of internet surfers is ensured.
Browser Speed
Some apps slow down your browser more, others less. However, each of them does. Both uBlock and AdBlock slow down the browser. At the same time, they speed it up, as no unnecessary ads are displayed. As a result, we get the same performance and reliable protection.
AdBlock Plus vs. uBlock: Differences
We've already figured out what two incredible apps have in common that allow you to get rid of annoying ads quickly and easily. Now, let's see how they differ. This may enable us to pick a winner in this intense competition.
Ad-Blocking Ability
As we mentioned, AdBlock doesn't block all ads. Users can still see it from big companies. The main selection criterion is the quality of ads. If it is acceptable, AdBlock will not do anything. Judging by the reviews, non-users are happy with it. They want to avoid seeing any advertising, even if it is high-quality and well-designed.
uBlock wins in this case because, unlike its main competitor, it allows you to remove all ads regardless of who provides them. This is one of the main reasons for the popularity of this app.
Supported Platforms
AdBlocker is the undisputed winner here. The reason is that it supports more platforms. Both applications can be installed as extensions for Chrome, Opera, Microsoft Edge, Firefox, and Safari (in the case of uBlocker, Safari up to version 13 is supported). However, AdBlocker is also compatible with these platforms:
Chromium;
Internet Explorer;
Maxthon.
Plus, you can install it on Android smartphones. We can conclude without fear that AdBlock provides many more options in terms of supported platforms.
Memory Consumption and CPU Load
Testing has shown that in the uBlock vs. AdBlock for Chrome competition in this aspect, the former is the winner. It consumes much less RAM and is much less CPU-intensive.
Let's look at Chrome as an example. It needs 500 MB to run AdBlock, while the competitor needs only 320 MB. It is also worth adding that AdBlock uses Element Hiding Helper to block arbitrary site elements. It also consumes RAM. The competitor uses its own resources, which positively affects loading.
Privacy
None of the apps have yet been found to have leaked user data. However, a Privacy Policy has been published on the official AdBlock website. This allows users to understand how their data will be used immediately. On the uBlock official website, however, there is no such document. AdBlock takes the privacy issue seriously and tells users more about the nuances.
User Support
In user support, AdBlock is the clear winner. AdBlock has created communities on Facebook and Twitter where they answer users' questions. There is also email support. By writing there, you can solve the problem individually.
Users who have chosen uBlock Origin only have access to the forums on Reddit. The problem is that developers rarely participate in discussions, so you are left to settle for ways to solve problems that other people suggest.
uBlock Origin vs. AdBlock Chrome vs. Stands Adblocker
We've already discussed how you don't have to settle for just uBlock and AdBlock. You can choose another ad blocker for Google Chrome or other browsers. Stands Adblocker is an excellent alternative. By choosing it, you will get:
Personal data protection. The app perfectly copes with annoying ads on YouTube, Twitch, Facebook, and other websites, including targeted ones.
Protection against viruses and malware. Some ads can contain malicious code that can infect a user's device with malware. Stands Adblocker handles them perfectly.
Browser acceleration. The app saves traffic and speeds up page loading.
High level of privacy. Stands Adblocker does not collect or store information about the user or his actions. A Privacy Policy is published on the website, which you can read to learn more about.
Ability to use the app in the most popular browsers. These include Chrome, Microsoft Edge, and Firefox. In addition, Stands Adblocker works on Android smartphones and tablets.
Like AdBlock and uBlock, Stands Adblocker can be used for free. The developers state that there will never be obligatory payments. You can donate if you like the app and want the developers to keep improving it. You can also subscribe to social media pages and leave a positive review in the Chrome Store.
To summarize, if you want to download a free ad blocker, you should choose Stands Adblocker. It does a great job, speeds up browser performance, and allows users to be confident in the privacy of their information. Besides, it is free and available for all major browsers.
Wrapping Up
Today, we told you about AdBlock and uBlock. Both apps perform their functions well, and both have advantages and disadvantages. It's impossible to say who unequivocally won. Try each to find the right one for you, as they are both free.
You can also use alternatives, among which the best is Stands Adblocker. It 100% fulfills its functions and combines the advantages of the heroes of our review.
FAQ About AdBlock and uBlock
Is uBlock Superior to Adblock?
It is impossible to answer unequivocally, as each app has pros and cons. You should study the available information and try each of them. Then, you will be able to understand what is best for you.
Are There Any Disadvantages to Using AdBlock?
Like many apps, this one, too, has drawbacks. Testing has shown that it consumes more RAM and is CPU-intensive than its main competitor. Also, some users consider it a disadvantage that the app shows acceptable ads.
Is Chrome Planning to Remove Adblock?
No, the app will not be removed. However, in January 2023, there was a massive update to Google's popular web browser in the form of a new extension manifest that removes dynamic filtering. Consequently, the effectiveness of many apps designed to combat annoying ads will be much lower.
Which Is the Top Free Ad Blocker?
Definitely, the best app for blocking annoying ads and fighting malware can be called Stands Adbloker. It copes with its tasks perfectly and speeds up the browser's loading speed. The app is free and easy to install and uninstall.